WHY EVACUATE FUMES FROM YOUR PREMISES?
Every year in France, fire is responsible for the deaths of about six hundred people and considerable material damage. The initial risk related to fire is the release of toxic fumes. These cause 98% of deaths, by asphyxiation, during the first few minutes of a fire. Particularly opaque and toxic, they can also hinder and prevent emergency services reaching those in danger and promote the spread of fire.
An essential parameter to reduce the risks for occupants and emergency services, while reducing the economic consequences of the disaster, is to evacuate the maximum amount of fumes and hot gases as quickly as possible. This operation is called smoke evacuation.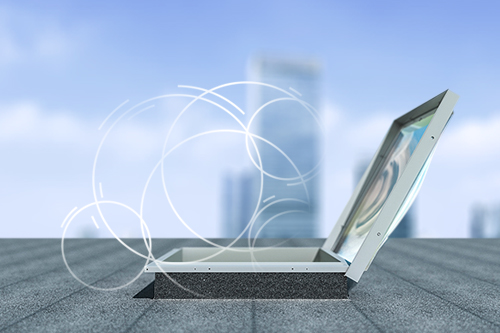 THE DANGER OF SMOKE
The 3 states of matter are found in the smoke produced by a fire:
solid state: unburned carbon-rich particles
liquid state: aerosols and condensates, mainly water vapour
gaseous state: combustion gases, such as carbon monoxide (CO),carbon dioxide (CO2), etc.
The leading cause of death in fires is smoke and gas.
Discover SKYDÔME naturel smoke evacuation solutions