Human existence is intimately linked to light. It is essential to an individual's balance, health and well being. It has both a physiological and a psychological influence It has been shown that a lack of natural light leads to depression, fatigue and stress, provoking sleep problems, tiredness and irritability. These problems ease with the arrival of spring and longer days.
Therefore, daylight appears to be the most attractive, effective and economic method of lighting. It is the perfect mood lighting: its considered use is a major asset in developing the architectural, energy efficient and environmental qualities in a building, whilst optimising the aesthetics.
THE WELL BEING OF THE OCCUPANTS
The physiological advantages of daylight for the occupants of a building are numerous. Our eyes are naturally adapted to daylight, which enables optimal visual perception. It is also more comfortable in lower light than that provided by artificial light. Its cyclical nature is an important factor in our psychological balance. Furthermore, its variability creates a harmony with the outside world and a favourable ambiance for the well being of the occupants.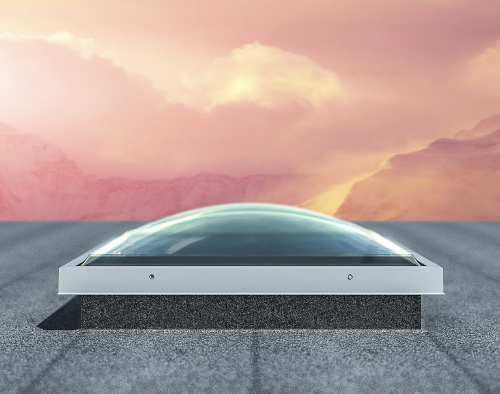 ENERGY CONSUMPTION
The extreme complexity in the behaviour of daylight leads to a number of architects neglecting the intrinsic qualities of natural light in favour of more adaptable artificial light. Now, artificial lighting accounts for a significant share of the total energy consumption in numerous buildings.
Conversely, effective management of daylight, twinned with controlled artificial light, results in substantial energy saving, while also improving the visual comfort of the occupants. For example, lighting costs for offices could be reduced by 30 - 50% by using appropriate lighting controls, while optimal use of daylight will also mean savings in heating costs.
Thus, good, natural daylight, adequate lighting control and effective maintenance leads to a considerable decrease in the total energy consumption of a building.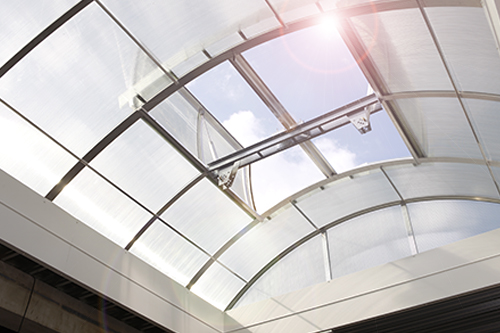 THE ENVIRONMENTAL IMPACT
Considering sustainable development, it is also important to take into account the environmental impact of integrating an efficient natural lighting system into a building.
In effect, optimal lighting management translates indirectly into a decrease in the waste produced by the building during its working life or demolition. Thus, each bulb removed negates the need to recycle the gas it contains. In the same way, by not installing an air conditioning unit, you eliminate the need to recycle the Freon used. Therefore, daylight is more environmentally friendly than artificial light.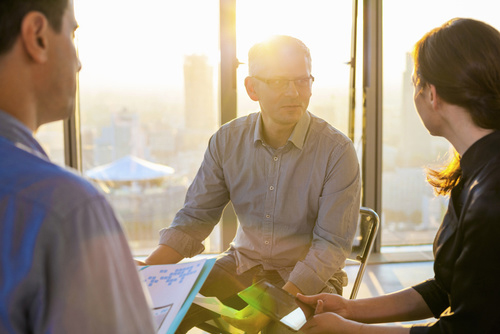 COSTS
In conclusion, a well-it building is not necessarily a costly one. The greatest problems in terms of managing daylight can be resolved with current construction methods and elements.
In the medium and long term, certain costs linked to daylight in a building are matched by a reduction in the cost of running a lighting and an air conditioning system. These figures also cover maintenance fees on expenditure linked to energy consumption.
Finally, certain supplementary investments in the optimal management of lighting are recovered through the removal of other systems or elements which are no longer required. The cost of solar protection, for example, can be counterbalanced against the removal of an air conditioning system