Measuring the energetic performance of a skylight
All studies show that a well-planned, natural lighting solution has a very positive impact on a building's energy consumption. To measure the performance of a skylight and calculate its energy assessment, various elements need to considered, such as the Effective Lighting Area (ELA, daylight), Natural solar heating (or Solar Factor), and URC thermal conductance.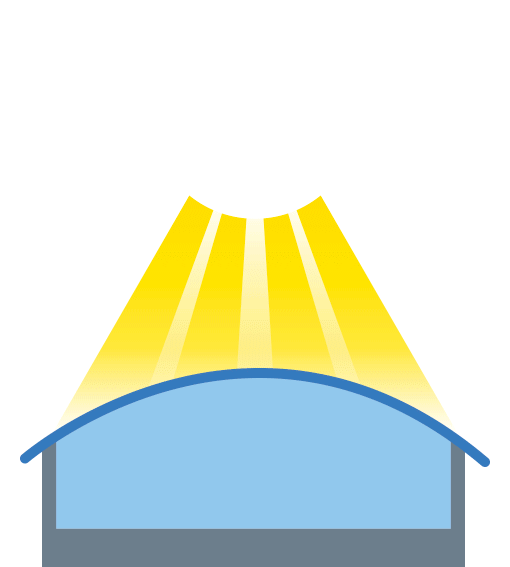 1) Defining the URC thermal conductance of skylights
A skylight's ability to transfer heat is written as 'URC thermal conductance' and expressed as W/m²K.
Definition: What is the URC thermal conductance coefficient?
The URC thermal conductance coefficient of a skylight designates the total heat flow that passes through 1m² of surface, with a temperature difference of 1°C between its two faces (conductance).
This URC thermal conductance is determined considering the outer surface, and calculated according to the instructions in the Eurolux reference guide (according to EN 1873 and EN 14963).
The URC value includes the following thermal conductances:
Ut: Thermal conductance of the glazing (in W/m²K)
Ue: Thermal conductance of the metal edge profile (in W/m²K)
Uup: Thermal conductance of the kerb (in W/m²K)

Low heat loss
Thermal conductance
Urc (in W/m2.k)
Why is the thermal conductance of a skylight expressed in Urc rather than Uw?
The coefficient Uw is the magnitude characterising all losses through windows (w for window). The calculation of the thermal transmittance of glass surfaces, Uw, is carried out by weighting the thermal characteristics of the components by their corresponding surfaces or measurements relative to the total surface of the glass surface and is expressed in W/(m2.K).
What is the installed Urc coefficient and who should calculate it?
The installed Urc coefficient is calculated taking into account the installation of the kerb in the roof complex. According to the Eurolux guide, the design office needs to take into account the part of the kerb integrated in the roof insulation and the nominal dimensions of the skylight in the roof - based on the skylight's characteristics, provided by the manufacturer.
CALCULER MON URC ET MA PERMEABILITE A L'AIR AVEC LE CALCULATEUR SKYDÔME !
2) MESURER LA SURFACE LUMIÈRE EFFICACE (APPORT DE LUMIÈRE)
On caractérise l'efficacité globale du transfert de lumière d'un lanterneau ponctuel ou filant par la Surface Lumière Efficace (SLE).
Selon le même principe que celui utilisé en désenfumage pour le calcul du nombre de DENFC à mettre en place, à partir de la connaissance de la surface utile d'ouverture Aa, la SLE permet de déterminer le nombre de lanterneaux à installer pour obtenir un Facteur Lumière du Jour donné :
Surface bâtiment x Coefficient transfert du bâtiment
x Facteur Lumière du Jour
= SLE x nombre de lanterneaux
La Surface Lumière Efficace (SLE) est calculée en m² suivant la méthode GIF (groupement professionnel réunissant notamment les industriels fabriquant des lanterneaux ponctuels et voûtes filantes) qui se base sur une étude réalisée par Ingelux (bureau d'étude lumière).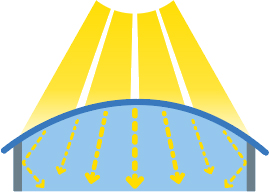 Éclairement zénithal
Effective Lighting Area
ELA (inm²)
3) Taking into account free sunlight
A skylight's energy assessment is based on its ability to transfer free sunlight into internal heat in the building, which is expressed by the solar factor (coefficient g). This coefficient (in %) defines the proportion of thermal rays that are transferred through the skylight.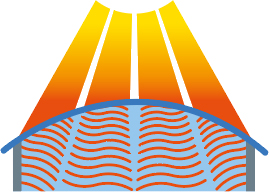 Natural heat from the sun
Solar factor
G (in %)